Quickly laid ground protection carpet plastic polyethylene ground mats
a. The standard size of our extrude UHMW-PE and HDPE ground protection mats/temporary road mat
| | | | | | |
| --- | --- | --- | --- | --- | --- |
| Series No. | Size (mm) | Thickness with texture (mm) | Unit weight (kg) | Effective Surface Area (sqm) | Load Capacity (tons) |
| 01 | 2000*1000*10 | 20 | 22.6 | 2.00 | 30 |
| 02 | 2440*1220*12.7 | 22.7 | 42 | 2.98 | 40 |
| 03 | 5900*2000*28 | 36 | 346 | 11.8 | 120 |
| 04 | 2900*1100*12.7 | 22.7 | 45 | 3.20 | 50 |
| 05 | 3000*1500*15 | 25 | 74 | 4.50 | 80 |
| 06 | 3000*2000*20 | 28 | 128 | 6.00 | 100 |
| 07 | 2400*1200*12.7 | 22.7 | 40.5 | 2.88 | 40 |
- Thickness: 12.7mm,15mm, 18mm, 20mm etc
- Cleat height: 5mm
- Color: Black/Dark Green (other colors available)
Pattern both sides OR smooth on one side.
Various sizes and thickness can be offered to suit your need.
b. The standard size of our Quickly laid ground protection carpet plastic polyethylene ground mats ; This mat want to Learn more
Series No.

Size (mm)

Thickness with texture(mm)

Unit weight

(KGS)


Effective Surface Area

Load capacity (Tons)

MOQ (PCS)

H01

3000*2500*20

29

158

7.50

80

40

H02

3000*2500*25

34

195

7.50

100

30

H03

3000*2500*38

47

293

7.50

120

15

H04

4500*2500*38

48

351

9.00

120

15

Remarks:

- For Wheel and Tracked corresponds
- Standard color is black, others can be customized
- Suitable for heavy duty vehicle, engineering vehicle, muddy road, rough road and so on
Application:
Portable access roadways
Protective matting systems
Stadium ground covering
Outdoor Events/shows/festivals
Building site access works
Construction, civil engineering and ground work industries
Emergency access routes
Golf course and sports field maintenance
Sports and leisure facilities
National Parks
Landscaping
Utilities and infrastructure maintenance
Boat regattas
Cemeteries
Temporary roadways and carparks
Military sites
Caravan parks
Heritage sites and eco friendly areas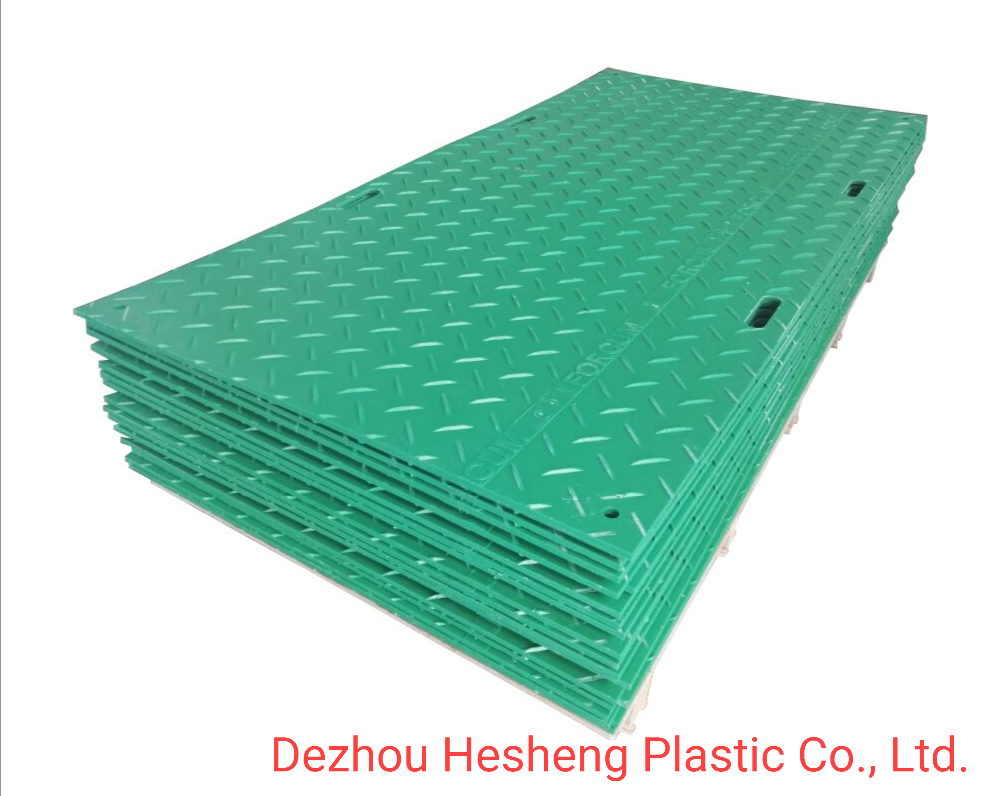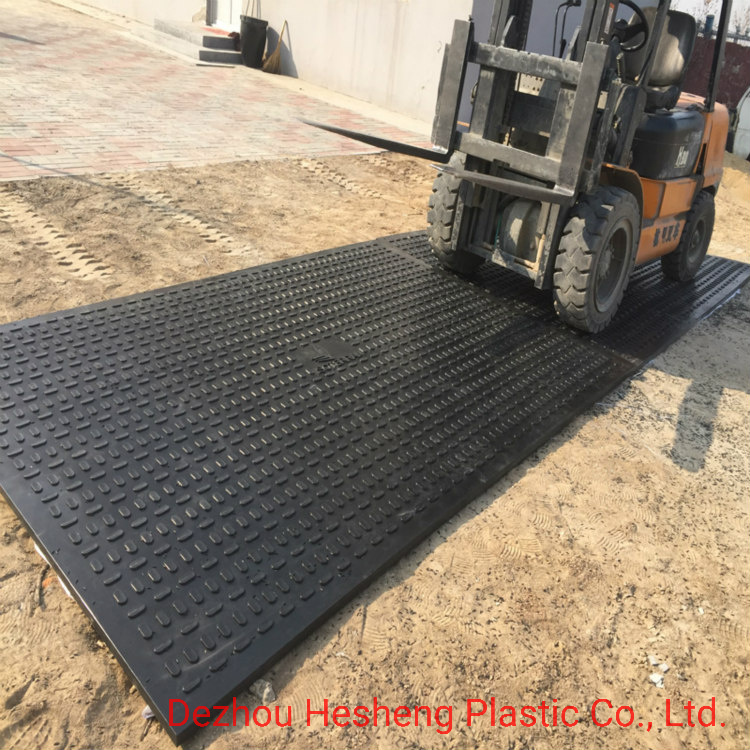 About Us
The HeSheng Story

Our story began in 2004. Back then the company founder Mr. Li was a salesman of UHMWPE-BOARD and PP BOARD for a private owner of a factory.

Today, we are priviliged to connect tens of thousands of clients from China to the globe. (like Japan, Singapore, Russia, USA, etc)

Our Products

We serve a wide range of products including UHMWPE-BOARD, PA BOARD, PVC BOARD and HDPE BOARD. All the products mentioned above are widely used in transportation, packaging, paper making, bin liners, port machinery, etc. It is our goal for all of the products to be grown under the highest standard of quality, using ethical sourcing practicies.

HeSheng Mission:

OUR MISSION: To serve the customer heart and soul.

Everything we do is about you. From the executive who will solve any of the promblems of yours instantly, to workers who work tirelessly to make sure you get the products in time. We strive to remain loyal to high-quality and your trust. We believe that step by step we can make a difference!

Certificates

Quality Management System Certificate issued by Beijing standard certification center.

Environment Management System Certificate issued by Beijing standard certification center.