TaiYue Multi foil Insulation material provide good thermal barrier property, only with 38-40mm thickness. Compared with the traditional insulation material, like glass wool, foam, rock wool, our multi-foil insulation material can give you a very high thermal barrier rate 7.17m² k/w for our 19 multi foils insulation.
The material can not only seal your roof from the wind and dust as a envelop,but keep the inside air flow smoothly,providing you a good ventilation living surrounding.after installing,your roof will retain dry and warm in winter,while prevent overheating in summer.The thickness is 40mm and the beams and rafter can be lefted exposed,so our material will save valuable living space in the attic.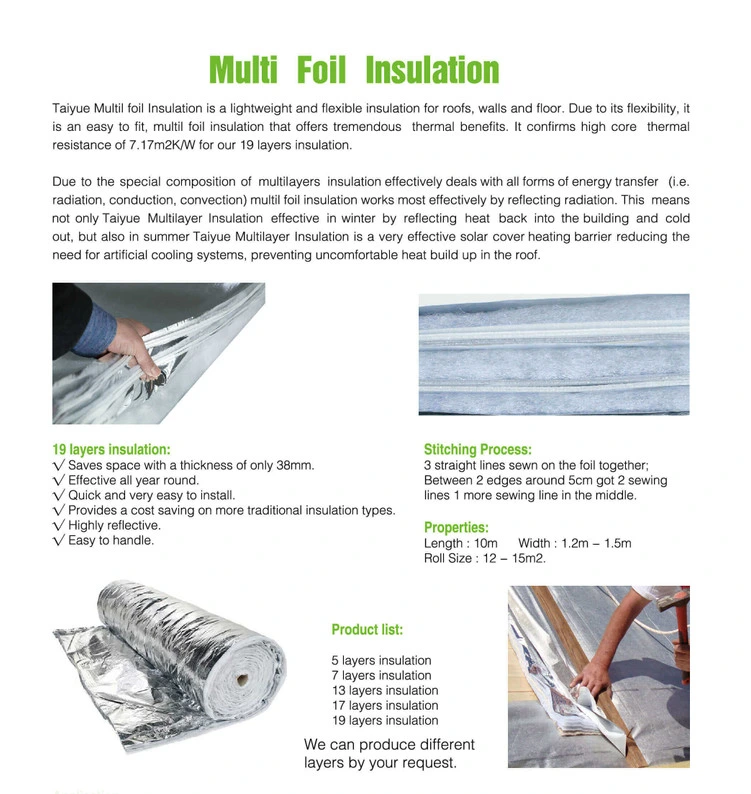 Multi Foil insulation Working Principle
The heat is an energy, transmits in three ways, conduction, convection and radiation. Through the high temperature to low temperature transfer, and ultimately achieve the dynamic balance of average temperature.
Our roof aluminum foil insulation can work both in cold and hot climites.

1.The reflective of the pure aluminum foil is 97% ,that means it can not only stop the radiant heat from the outside and also stop the warmer loss from the inside.
Due to the special composition of multi-layers of insulation, TaiYue Multi-Foil Insulation material effectively deals with all
forms of energy transfer (i.e. conduction, convection and radiation). It works most effectively by reflecting infra-red radiation.
2.The middle layer can slow down the heat conduction and convention greatly.
This means that not only is this product effective in winter by reflecting heat back into the building and cold out, but also in summer.TaiYue Multi-Foils layers insulaion material is a very effective solar over-heating barrier reducing the need for artificial cooling systems, preventing uncomfortable buildup of heat in the building. With TaiYue Multi-Foil Insulation, we can enjoy the green life.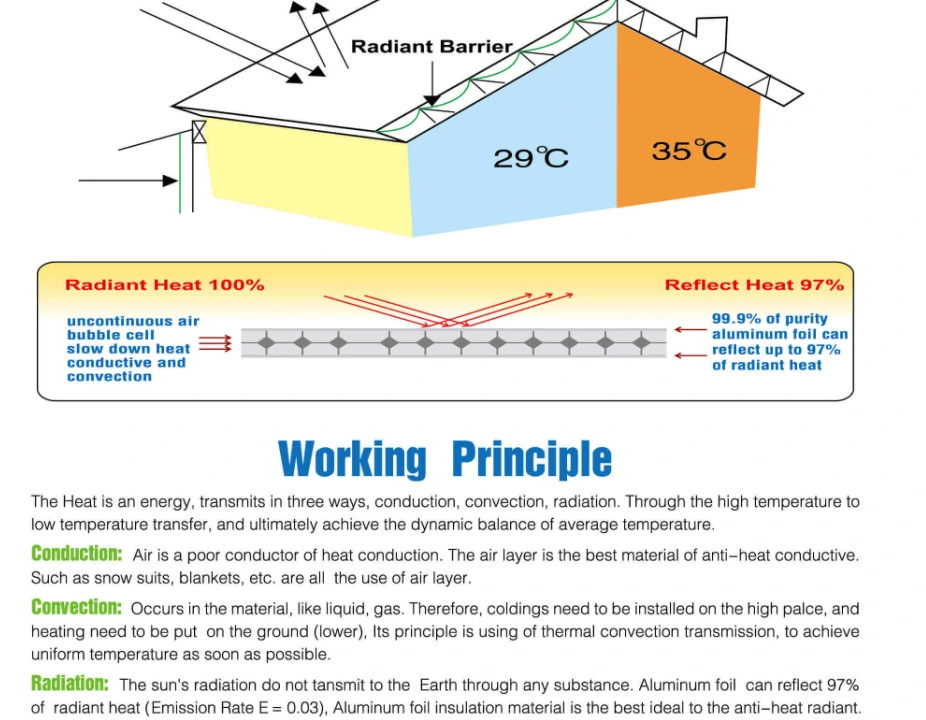 | | | | |
| --- | --- | --- | --- |
| Product Name | | Material | Aluminum foil, mesh , catton, VMPET, EPE Foam |
| Width | | Thermal resistance(R value) | |
| Length | | Stitching | |
| Layers | | certificate | |

19 layers insulation:
1.Save space with a thickness of only 38mm
2.Clean, thin,durable and lightweight
3.Environment-friendly and Safety
4.Easy to install, high efficiency
5.Cost-effective and versatile
6.During summer: moisture barrier, sun protection, waterproof, energy saving consumed by cool air conditioning.
7.During winter: heat protection, remarkable energy saving consumed by warm air conditioning.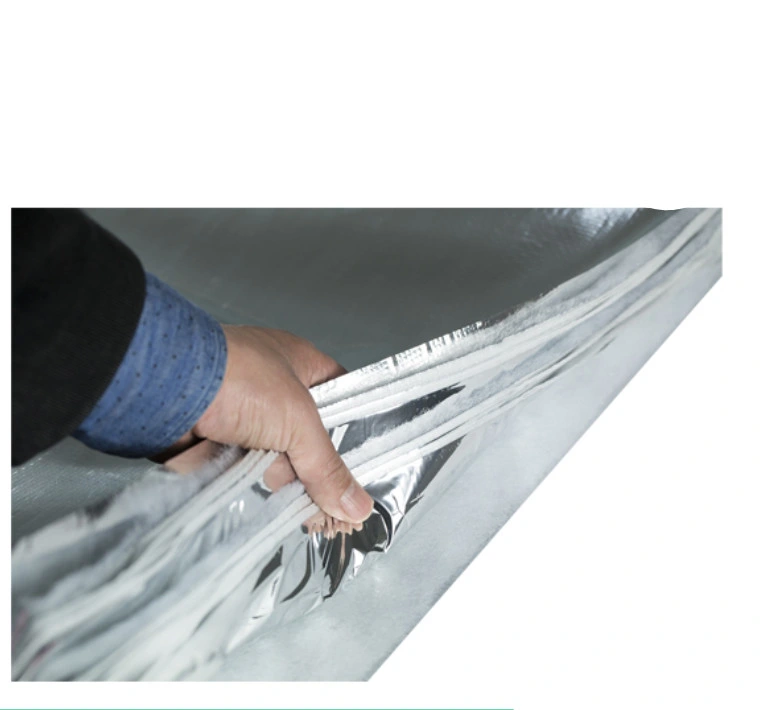 Benefits
• Airtight, watertight & water vaporation resistant.
• User friendly: clean, quick & easy to install, easy to stock.
• Thin, durable and lightweight, easy to carry, transport and store.
• Environment-friendly and safe.
• Cost-effective and versatile.
• No personal protection equipment required.
• Very little wastage - minimum cutting required.
• Surface finish which guarantees emissivity for the life of the building.
• During summer: moisture barrier, sun protection, waterproof, energy saving.

Installation Instructions
For Roofing.
multi foil insulation can be used over rafters, under rafters, between and around purlins, as part of a two layer applications and
when all joints are sealed using aluminum foil tape can also work as a vapour contron layer
For Walling.

multi foil insulation can be used with timber frames, cavity walls, dry lining, dwarf walls, dormer cheeks and external walls.
For Ceiling.
Multi foil insulation can also be used with suspended timbers, crawl spaces and floating timbers.
Thank you for visit Taiyue Insulation, your one stop shop for radiant barrier and reflective foil bubble insulation
products. As a professional manufacture in China ,we offer Varied insulation: Roofing foil bubble insulation, foil foam
insulation,aluminum foil,Building sarking and multi-layers insulation, and Swimming pool solar cover ,Which are minaly use on Roof , Wall ,Floor .Please browse our catalog to find the correct insulation for your project. If we can help, at any time, please do not hesitate to contact us. We offer the most comprehensive catalog of radiant barrier products and reflective bubble foil insulation worldwide. Our website is full of information relating to our insulation including application instructions installation videos, and energy saving articles.
At Taiyue Insulation we have strived to provide the highest quality reflective foil insulation on the market. We offer the
industries largest diversity of roll sizes and types including double and single bubble. Pricing is not an option because we offer the best pricing. At anytime, call to compare. Our turn around times are fast and reliable.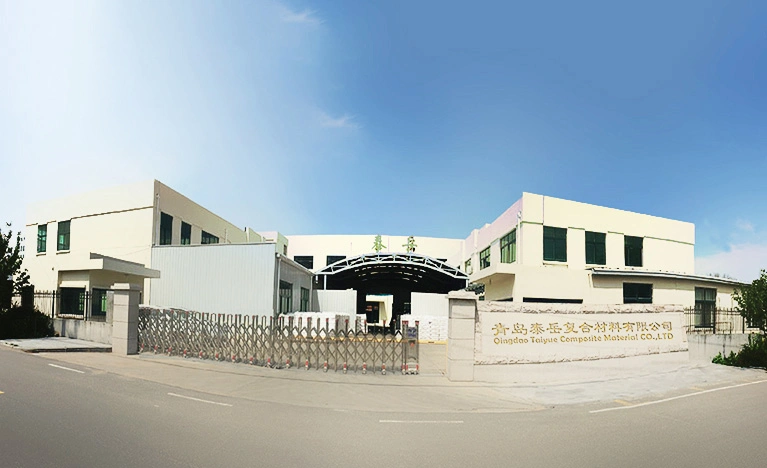 1. Manufacturer Company ?
TaiYue Composite Material Co.,Ltd is a manufacturer for pool solar cover and thermal insulation in Qingdao, China.

2. What is the lead time ?
Bubble foil insulation is usually within 10-12 days after your deposit,
under carpet insulation is usually within 20-25 days after your deposit,
swimming pool solar cover usually within 12-15 days after your deposit.

3. What the payment method?
Usually 30% T/T in advance and 70% against the pictures of product before shipment. Or other payment method.

4. Which port do we load products ?
Qingdao port mainly, and we can also deliver products to other port in China so that you can arrange LCL with other products.

5. OEM
Accept, You only need to give us the information about your total size of printing or sticker.

6. Sample
It is free for regular product samples. You should pay the express charge. If the sample is customized, it's depends on your
requirement.
Here what you want know :
Why Buy Taiyue Insulation and Radiant Barrier Products?
Taiyue insulation is an industry leading product. We supply the highest quality, most extensively-tested, readily-available,
reflective-based insulations and radiant barriers in the world. With Taiyue products, there is no middleman. Direct from the
manufacturer and operated with an ISO 9001:2008 certified management system. Our testing and validation requirements are second tonone. Taiyue insulation is used in a wide variety of applications.

What are the two terms commonly encountered when judging reflective insulation
As R-values are used to measure the effectiveness of mass insulation, Reflective and Emissive ratings are used to measure the effectiveness of reflective insulation with radiant heat. A high Reflective value helps block more radiant heat and a low emissive value means the insulating material releases less of the heat that it absorbs. Better performing reflective insulation like all of the products offered made from 99% pure aluminum for very high reflectivity and very low emissivity about 0.03.

Depending on where I install reflective insulation my assembly r-value will be different. Why is this?
The R-Value of a horizontal assembly (e.g stud wall) using our premium reflective foil insulation is 6.8. Downward R-Value (e.g. crawlspace or attics) is 10.6 and Upward R-Value (e.g. ceiling) is 5.3, tested in accordance to ASTM C1224. This effect is caused by the direction of convective airflow around the assembly

Do I have to take out my old insulation to put a radiant barrier or reflective foil insulation in?
No. Radiant Barrier actually makes your present insulation more effective.