Woven Fabric Coated Aluminum Foil Insulation Fabric
Specifications:
| | |
| --- | --- |
| Roll Length | 38.1m-3000m |
| Max Width | 1.85m |
| Weight | 95gsm-400gsm |
| Thickness | 0.1mm-0.22mm |
| Standard Roll Dimensions | 1.2 M x 50M/roll; 1.2M x 100M/roll; 1.25m*60m/roll; 60''*30 m/roll; 4'x125'/roll; 4'x250'/roll |
Types:
| | |
| --- | --- |
| 1) | Single Sided Aluminum Foil Woven |
| 2) | Double sided Aluminum Foil Woven |
| 3) | Single Sided MPET Woven |
| 4) | Double sided MPET Woven |
| 5) | Anti glare Fireresistant Foil Woven |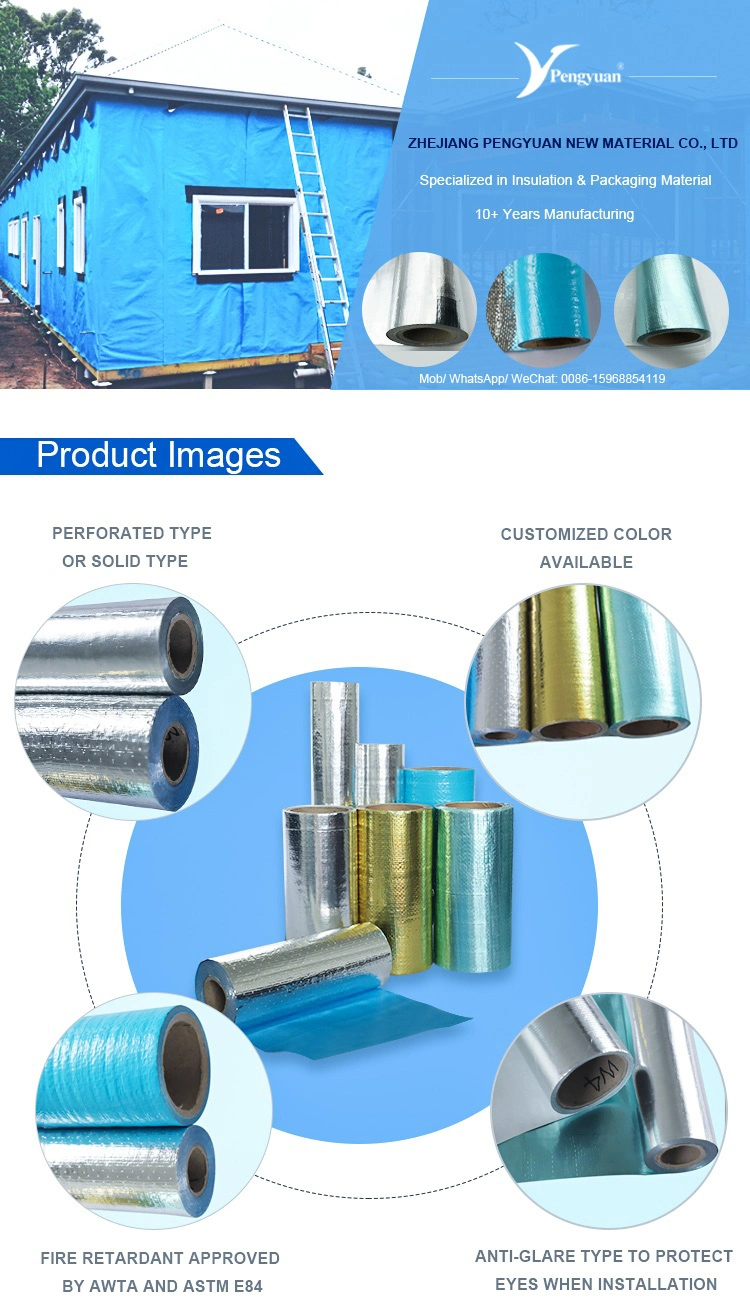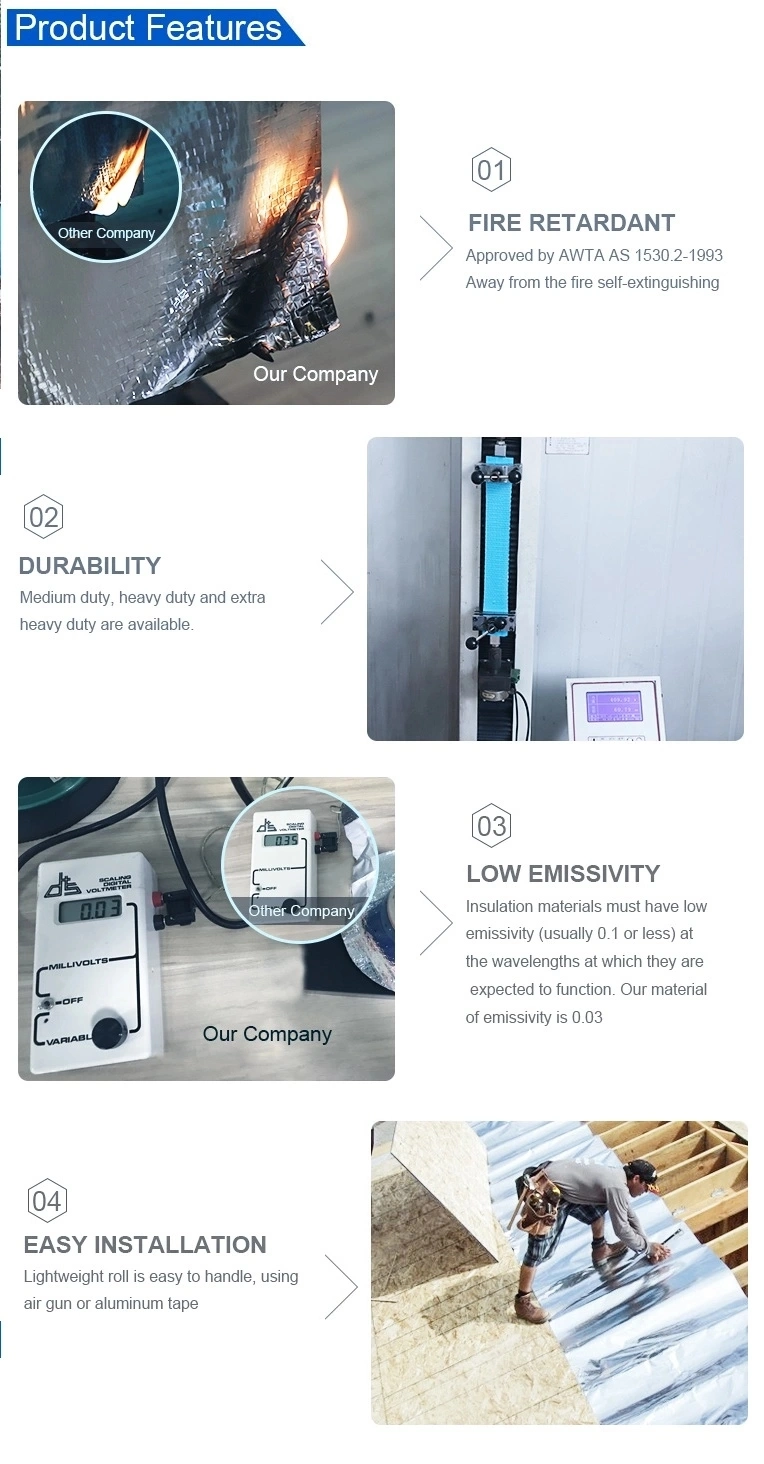 Feature:
1. Environmentally safe product
2. Achieves thermal break and high R-Value performance reflecting up 97% of radiant heat flow
3. Significantly lowers the use of mechanical cooling and heating in buildings Safe to handle, quick and easy installation
4. Water proof, no moisture retention, no fungi or bacterial growth and fiber free
5. Glue free manufacturing process, avoiding ozone depleting substances
6. Exceptional fire safety qualities including safe fire retardant additives and non-dripping technology
7. Solid version qualifies as an air and moisture barrier
Application / Usage:
1) To laminate Bubble, EPE/XPE/IXPE Foam, Paper, Kraft paper to make composite materials 2) Attic Insulation
Stop unwanted heat from entering your home through your roof by installing radiant barrier insulation in your attic
3) Basement Wall Insulation
Insulate the basement walls using radiant barrier. It is waterproof and does not promote the growth of mold or fungi.
4) Radiant barrier It provides a thermal block and a first line of defense against the heat of sun entering home's attic. It keeps attic much cooler
5) Roof Sarking
6) House Wrapper; 7) Agriculture; 8)To make Container liner; Tray cover.
Regular Structure
1
Aluminium Foil/PE/ Woven Fabric
2
Aluminium Foil / PE/ Woven Fabric /PE
3
Aluminium Foil / PE/ Woven Fabric /PE/ Aluminium Foil
4
Anti-glare Aluminium Foil / PE/ Woven Fabric
5
Fire-retardant Foil Woven Fabric
6
Perforated Aluminium Foil / PE/ Woven Fabric /PE/ Aluminium Foil
7
Metallised PET /PE/ Woven Fabric
8
Metallised PET / PE/ Woven Fabric /PE
9
Metallised PET / PE/ Woven Fabric /PE/ Metallised PET
10
Anti-glare Metallised PET / PE/ Woven Fabric
11
Perforated Metallised PET / PE/ Woven Fabric /PE/ Metallised PET
12
fire-retardant Aluminum Foil/Kraft/ Woven Fabric/Antiglare coating
Company information
Zhejiang Pengyuan New Material Co., Ltd is located in Hangzhou. The company is listed into the National Torch Plan Industrialization Projects, Zhejiang Science and Technology Enterprise, the AAA Grade Enterprise. Complete industrial chain gives us advantages in effective Corp management, product quality controlling and new product development. Our company strictly controls the quality in accordance with the ISO9001: 2008 and the ISO14001: 2004 standard. As an enterprise intends to become a multinational corporation of high technology and set up a famous international brand, we set up a R&D Center together with Zhejiang University to develop new skills and products. We've already got 21 utility model patents, 1 invention patent. "PENGYUAN" is becoming a famous brand. Our company has 5 advanced production lines of lamination. Our annual output is more than 10000 tons and the yearly turnover is over 150 millions.
Our main products include:
· PY1-Woven Foil(MPET)
· PY2-Foam Foil(MPET)
· PY3-Bubble Foil(MPET)
· PY4-Foil Scrim Kraft
· PY5-MPET coated PE; Aluminium Film
· PY6-Paper Foil (MPET)
· PY7-Nonwovens Foil (MPET)
· PY8-Fiberglass Cloth Aluminum
· PY9-Reflective Fabric
· PY10-Finished Products
Service:
1, Prompt Reply to customers' inquiry on line in 24 hours.
2, Strict quality control system
3, Good Service & Good reputation in the market.
4, Low MOQ can meet your promotional business very well.
5, Fast Delivery & Cheap Freight Charge from forwarders.
6, OEM & ODM are welcome.