Low-Carbon Steel Iron Welded Mesh
Welded wire mesh, or welded wire fabric, or "weldmesh" is an electric fusion welded prefabricated joined grid consisting of a series of parallel longitudinal wires with accurate spacing welded to cross wires at the required spacing.
Machines used to produce the mesh must be with precise dimensional control. The product in considerable savings in time. labor and money.
Till now, we have 8 sets of large-scale automatic multiple spot welding machine, 7 stes of medium -sized multiple spot welding machine.
As for the production ability, we can produce 150-300 tons of welded wire mesh per month.(about 7-15 40' high containers)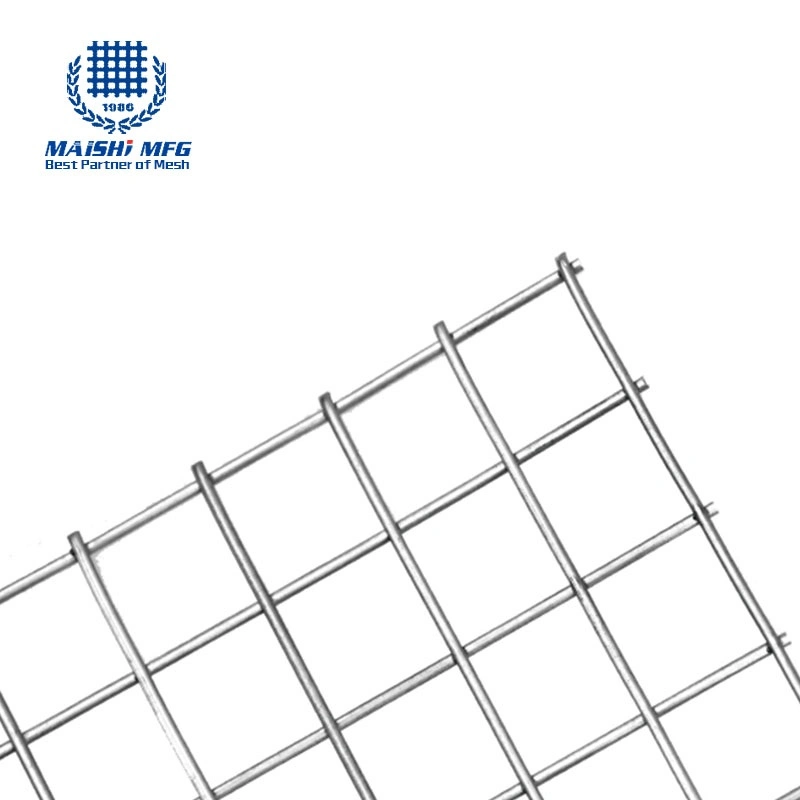 As a leading welded wire mesh supplier and manufacturer,Hebei Maishi offers a full range of welded wire mesh for various applications. We supply the mesh from 1/2" to 6", customer requst can be customized .Welded wire mesh is generally constructed in rolls or flat panels designed by customers. Green plastic coated is widely used for fence and breeding .Custom wire openings available upon request.
[ Production Process ]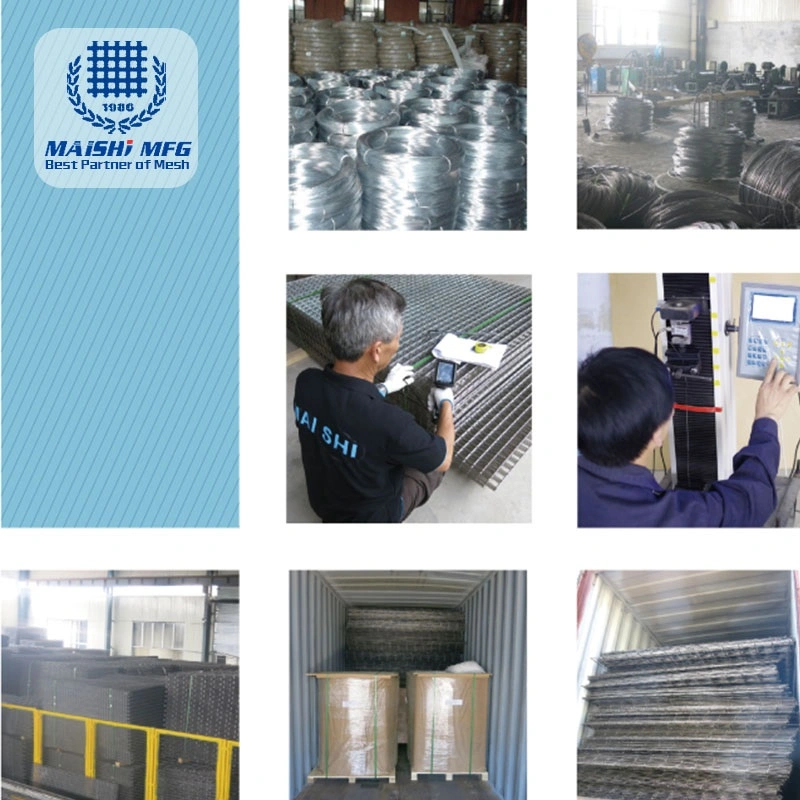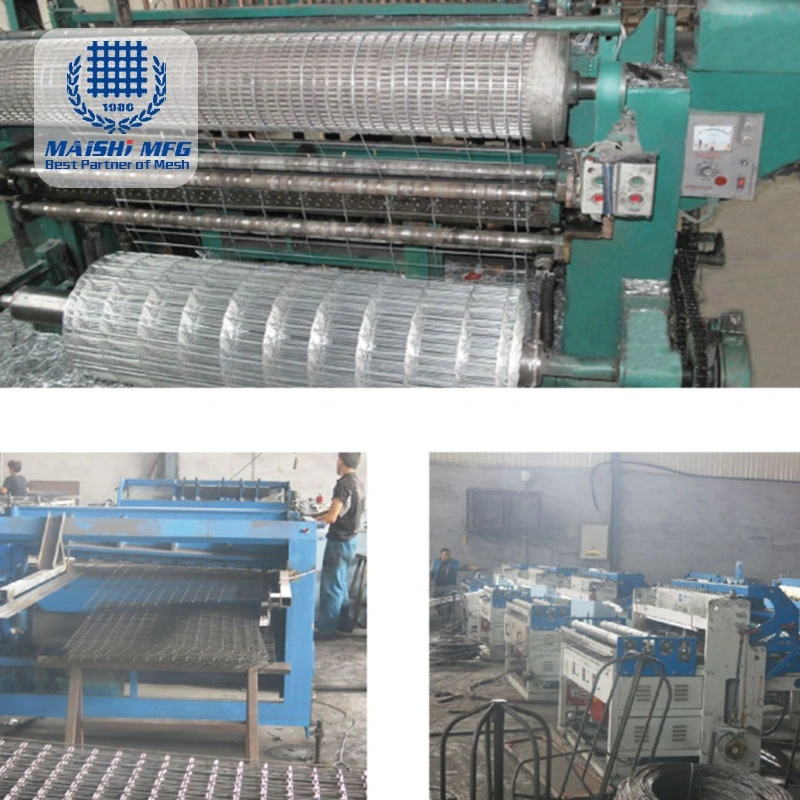 [ Material ]
Welded mesh is generally made of plain steel wire. During the production, it goes through a hot zinc covering process. This type of welded mesh with square opening is ideal for animal cage making, fabricating the wire boxes, grilling, partition making, grating purposes and machine protection fencing.
[ Specifications ]
welded wire mesh rolls
Opening
Wire diameter
Available Width
1/4" x 1/4"
0.45mm-0.7mm
300mm-1830mm
3/4" x 3/4"
0.7mm-2.0mm
300mm-1830mm
3/8" x 3/8"
0.7mm-1.1mm
300mm-1830mm
5/8" x 5/8"
0.8mm-1.2mm
300mm-1830mm
1/2" x 1/2"
0.45mm-1.6 mm
300mm-1830mm
1" x 1"
0.7mm-3.0mm
300mm-2000mm
1" x 1/2"
0.8mm-1.6mm
300mm-1828mm
1-1/2" x 1-1/2"
0.7mm-3.5mm
300mm-1828mm
1" x 2"
1.6mm-2.1mm
300mm-1828mm
2" x 2"
0.7mm-4.0mm
300mm-2500mm
2" x 3"
1.5mm-3.5mm
300mm-2000mm
2" x 4"
2.0mm-4.0mm
300mm-1828mm
3" x 3"
1.0mm-4.5mm
300mm-2500mm
3" x 4"
1.5mm-4.5mm
300mm-2000mm
4" x 4"
1.0mm-4.5mm
300mm-2500mm
5" x 5"
2.5mm-4.5mm
300mm-2500mm
6" x 6"
2.5mm-4.5mm
300mm-2500mm
Welded Wire Mesh Panels
Opening
Wire diameter
Available width
1/2" x 1/2"
0.45mm-2.0mm
100mm-1830mm
1" x 1"
0.7mm-3.5mm
100mm-2000mm
1" x1/4"
0.45mm-4.0mm
100mm-2000mm
1x 1/2"
0.45mm-4.0mm
100mm-3600mm
2" x 2"
0.7mm-6.0mm
100mm-3600mm
3" x 3"
1.0mm-7.0mm
100mm-3600mm
4" x 4"
1.0mm-8.0mm
100mm-3600mm
5" x 5"
2.5mm-9.0mm
100mm-3600mm
6" x 6"
2.5mm-10.0mm
100mm-3600mm
Roll or panel length can be negotiated, welcome to contact us for further information.
[ Quality Standard ]
Our products can meet below quality standard:
[ JG/T114-1997 ] National Standard
[ BS4483 ] British Standard
[ DIN488 ] German Standard
[ SIA16211 S550 ] Swiss Fabric Standard
[ NFA35-016 ] Franch Fabric Standard
[ onORM B4200/7 ] Australian Fabric Standard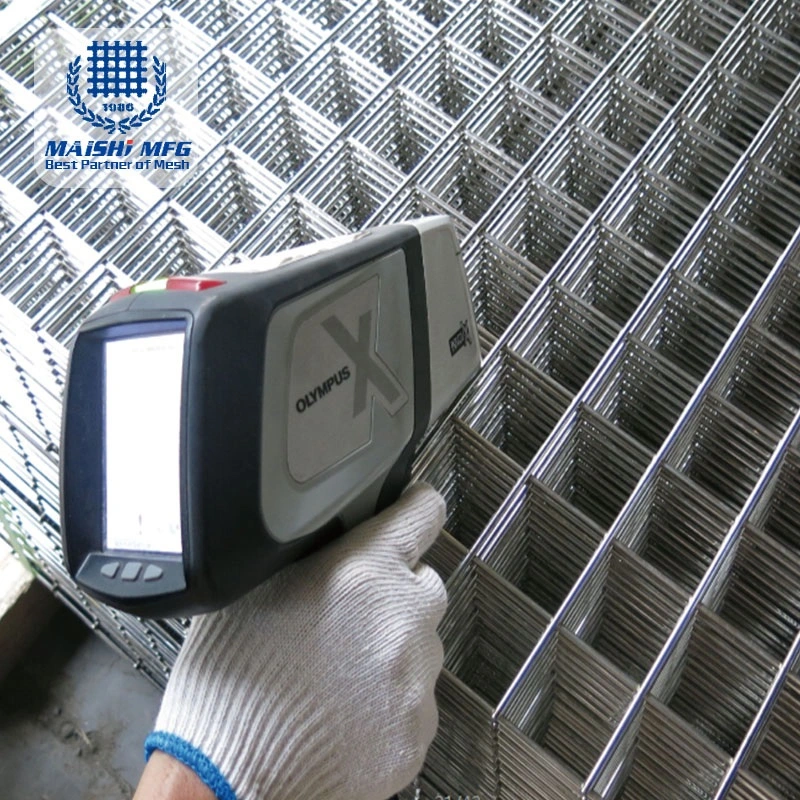 [ Produce Knowledge ]
Normally the longitudinal wire and cross wire is the same, the edge wire is much more thinner and the edge opening small. Which makes easier to weld sheets together.
If the mesh opening is 200mm, normally the edge opening is 100mm, then the whole opening will be 200mm when two sheets welded together.
If no edge wire, the user have to tie two mesh sheets by wire.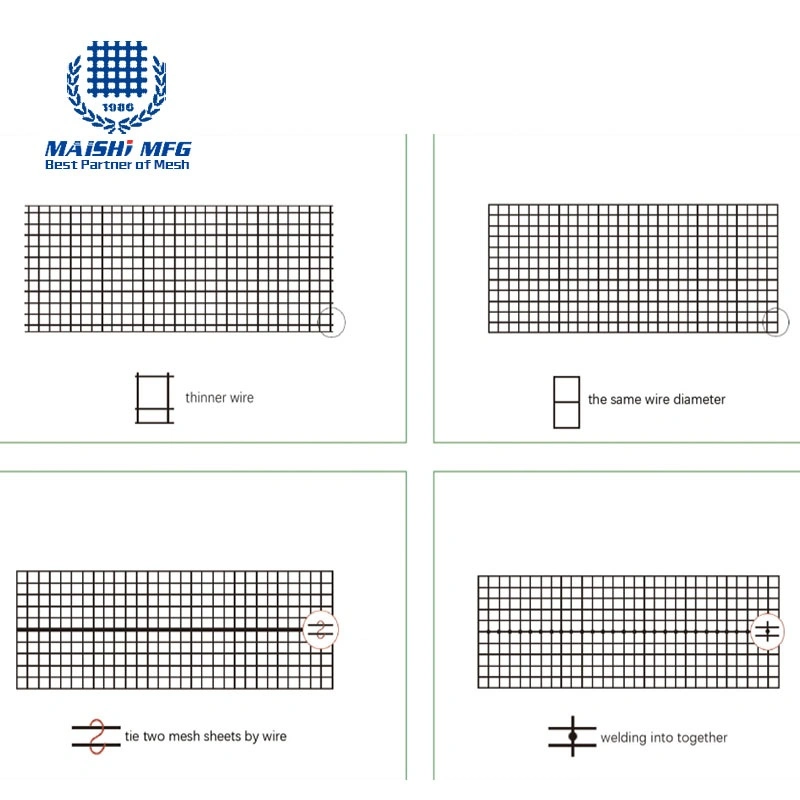 Longitudinal wire dia. x longitudinal wire dia. x 0.00617 x mesh length x numbers of wire in width direction + cross wire dia. x cross wire dia. x 0.00617 x mesh width x numbers of wire in length direction + edge wire dia. x edge wire dia. x 0.00617 x mesh length x 2=KG/sheet
[ Production ]
Our automatic welding machines can set up any mesh sizes in the market, no matter it's standard type or special requirement;
The fully digital controlled techniques and well-trained staff can ensure the even mesh size and the accurate dimensions of panels.
[ Guarantee ]
1.We guarantee our customers will get right material and sizes,enough weight,on time delivery at our best service and price
2.The goods can be returned or compensated if the quality is not ok
3.There is no "cheat" and "misunderstanding" in Maishi
[ Payment term ]
T/T(30%T/T paid in advance and 70% paid before shipment or against copy of BL), irrevocable L/C at sight, can be negotiable .
Sample:free sample sent on request.
To serve you best we appreciate getting the following information :
1.Material:Hot dipped galvanized before or after welding
2.Opening size
3.Wire diameter
4.Roll or pallets, sizes
5.Quantity
At your service all the time and welcome your inquiry.You are the reason why we are here.