hpl laminated MgO wall decorative panels
Product Description
Magnesium Oxide Board is a technologically advanced building material that offers superior performance in every category when compared to traditional wood, gypsumand cement based products. Magnesium Oxide Board is virtually impervious to fire, water, insects; does not feed mold or mildew; is non-toxic, non- flammable andnon-combustible; is durable, maintains it's dimensional stability - even when wet; and has exceptional bonding surface.
Composition
The materials of magnesium fireproof board are Magnesia(MgO),Magnesium Chlorid(Mgcl2)and Alkali glass fiber net.
Characteristics
(1)Light weight and high intensity:The density is less than 0.85g/cm3,the bending strength of 6mm>17Mpa,12mm board >21Mpa.
(2)Superior fire endurance(fireproof):A grade non-combustible material test by national authority organization.
(3)superior impact resistance:Impact resistance of 9mm board>5.5KJ/M2,12mm board >12.7KJ/M2.It is far more than standard of regular board.
(4)Quick construction and no dust :Cut the board could be used the knife directly, no dust pollution, simple and convenient.
(5)lower loss:Extra strip can be used again and with its original performance.
(6)Environment protection:100% not contained asbestos, formaldehyde, benzene, no radioactivity.

SGS Certificate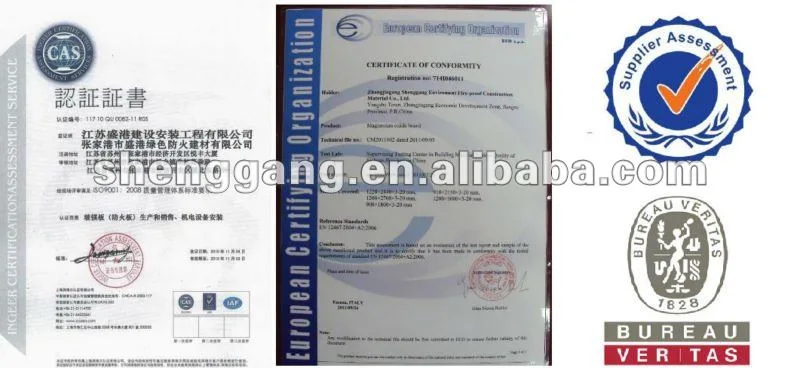 Application
1.Commercial building: commercial mansion, public place of entertainment, market, and hotel.
2.Industrial building : Factory, warehouse.
3.Residential housing: New-type house, fitting up renovating.
4.Public place :hospital, theater. station.
Material

modified magnesia cement

Fireproof characteristic

A grade not combustible

GB8624

Bending strength

17Mpa

JC688

Density

0.82g/cm3

GB/T7019-1997

Impact resistance

6.0KJ/m2

6.0KJ/m2

Water permeability

There is no drop of water to emerge in the back

CNS 13778

Sound insulation

≥44dB

GB/T7019-1997

Security

100%does not include the asbestos, formaldehyde, and benzene

Radioactivity

:Not limited by the scope of application