High quality quickly laid hdpe ground protection mat
XINXING ground mats can be sued to create temporary roadways for all types of vehicles and equipment or large work pads for drilling , administrative compounds ,bone yards , temporary flooring , oil drilling rig mats and other industrial application .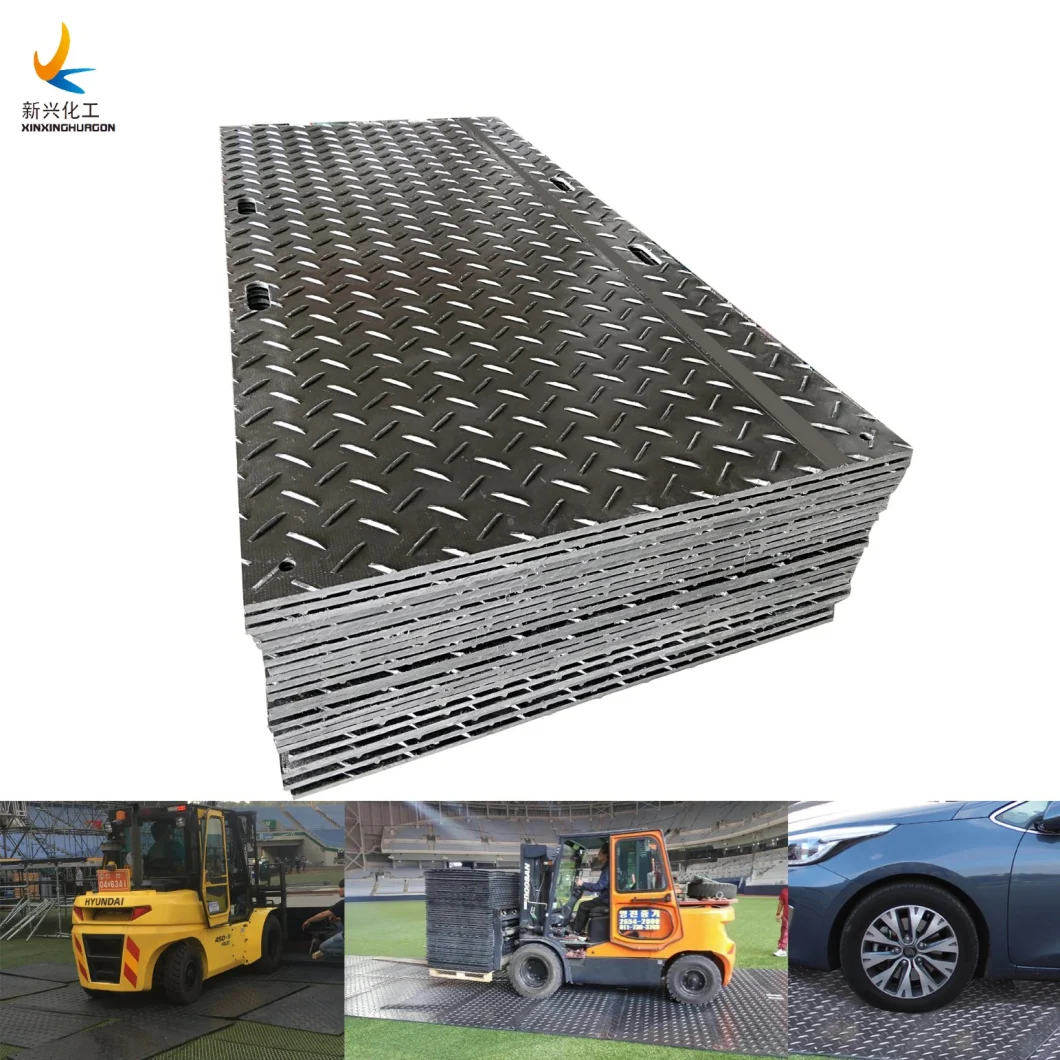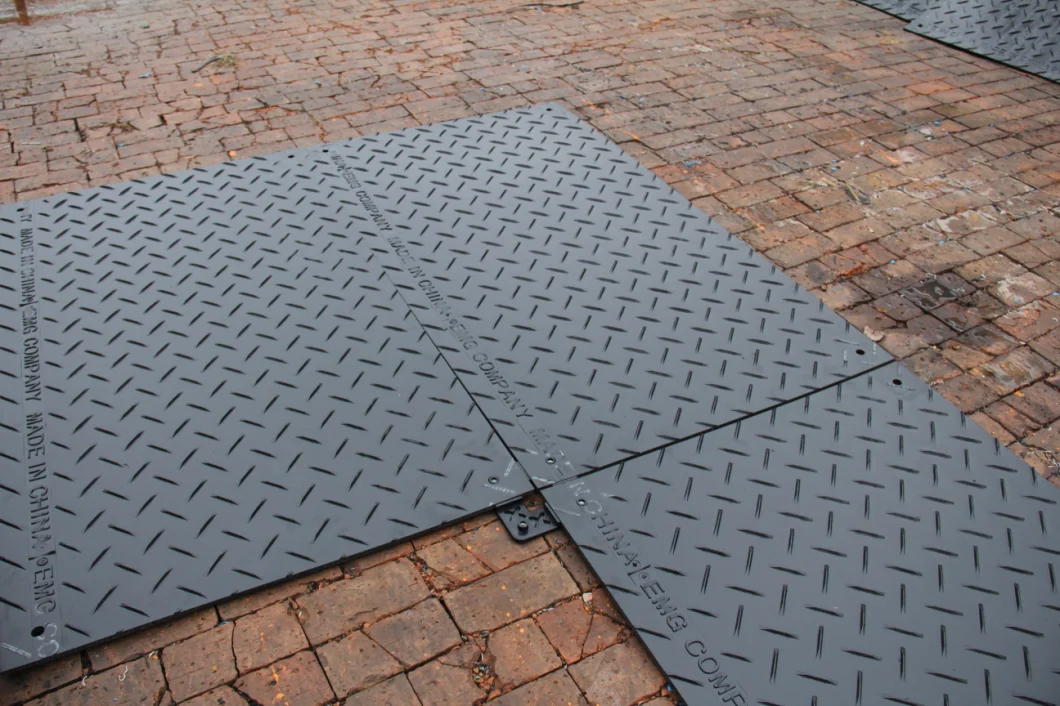 Material: Special blend of HDPE plastic
Overall Size: 1220x2440x12.7mm (without treads)
Surface Area: 3m²
Weight: 40kg
Tread Options: Roadway,Walkway and Smooth, or a combination
Connectors: 4 joining points, 4 handles
Packed in: Pallet of 30 mats
Pallet Pack: Weight: 1200kg
Dimensions: 2440x1220x800mm
Fire Rating: UL94 HB
Slip Testing: BS7976 part 2
Deflection: Tested on varying CBR ground conditions using a 300mm diameter steel platen with 6 tonnes load to simulate the pressure of an HGV wheel
Guarantee: 5 Years. If it is broken under normal use, we will replace for free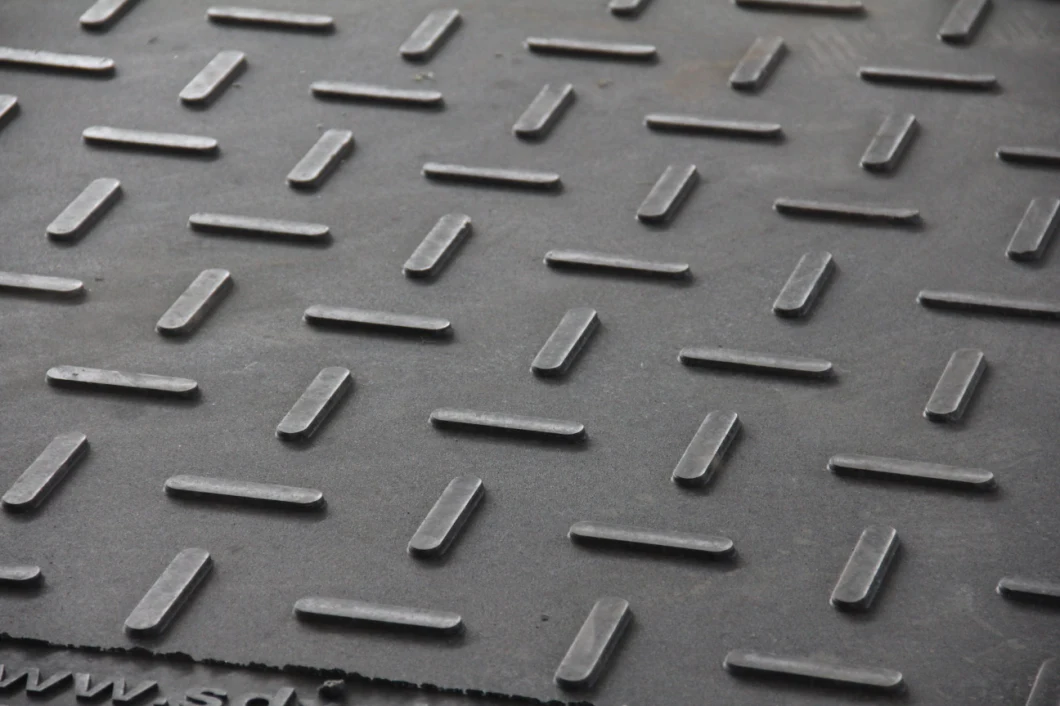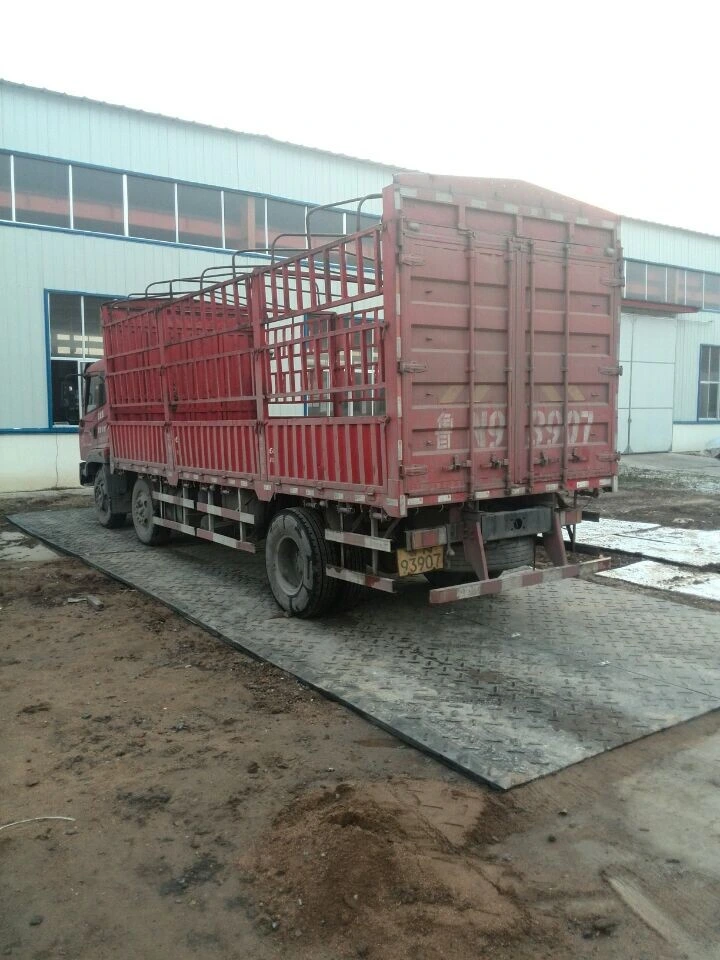 Product Information
1. Available Size
Various sizes and thickness can be offered to suit your need.
1200*2400mm 910*2440mm
1100*2440mm 610*2440mm
1100*2900mm 910*1830mm
1000*2440mm 610*1830mm
1000*2900mm 610*1220mm
1220*2440mm 6000x2000mm
Thickness: 12.7mm,15mm, 18mm, 20mm, 25mm, 28mm, 30mm
Cleat height: 5mm,
Common Color: Black/Blue/Tan (other colors available, MOQ 5 Tons)
2. Surface Pattern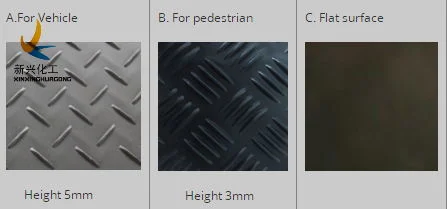 3. Loading Weight
| | | | |
| --- | --- | --- | --- |
| Size | Thickness | Weight | Loading Weight |
| 915x2440mm | 12.7mm | 31.25KGS | 50 Tonnes |
| 1220x1830mm | 15mm | 36.39KGS | 60 Tonnes |
| 1220x2440mm | 20mm | 63.40KGS | 80 tonnes |
| 1000x3000mm | 25mm | 78.90KGS | 100 tonnes |
| 2000x5900mm | 30mm | 369.34KGS | 120 tonnes |
4.Application
a.Construction, civil engineering and groundwork
b.Pedestrian walkways
c.Emergency access routes
d.Temporary roadways and car parks
e.Utilities and infrastructure maintenance
f.Landscaping and protection of heritage or eco-sensitive areas
g.Golf course and sport field maintenance
h.Sports and leisure events
i. Beach access for wheelchair
j. Helicopter landing
5. Advantages
a.Solid one piece construction
b.Unique surface
c.Lower transport cost than other mats
d.Tough durable working areas and temporary roads for heavy plant, equipment and multiple vehicle
e.Protect against severe rutting and eco damage to ground and sensitive sites
f.Support health & safety objectives
g.A reversible low profile surface for drilling rigs, work pads, depot areas and helipads
h.Connection options for different terrain & equipment
i.Non-conductive - ideal for use on transmission projects
g.Designs and manufactured in China
6. Connector System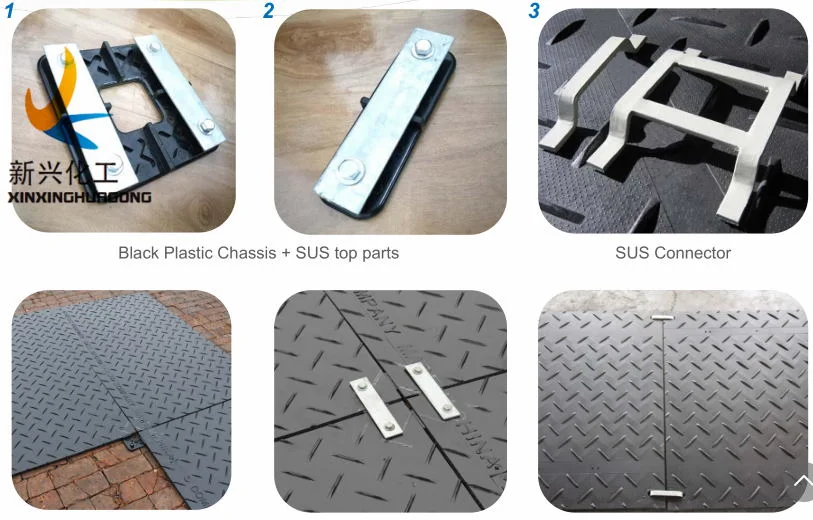 7. Maintenance
I. Cleaning

No specialist equipment is required to clean the X ground mats, they can easily be cleaned using a pressure washer and cold water. If heavily soiled the excess mud should be brushed off before being pressure washed
II. Store
Temporary road mat, construction truck mat, heavy duty access mat etc. need to place in a flat ground or pallet

8. Guarantee
Hereby Xinxing gurantee that all the Xinxing GROUND MATS, Temporary road mat, construction truck mat, heavy duty access mat etc. can be used normally more than 5 years with no break, if there is any break caused by our material within 2 years, Xinxing will freely replace it.

Our Company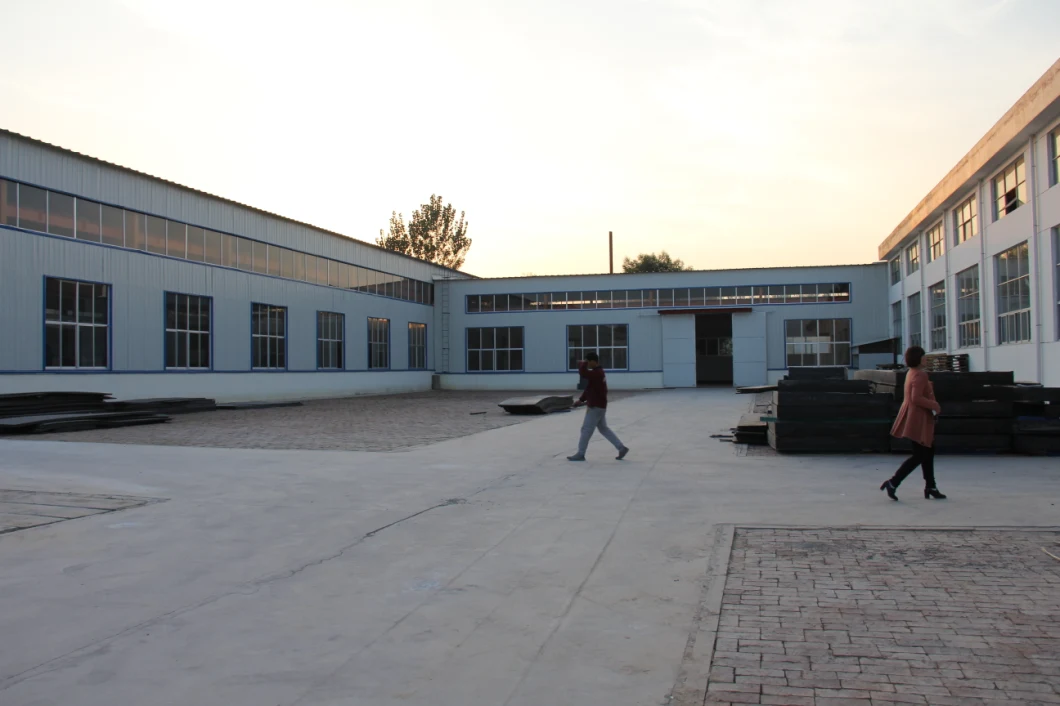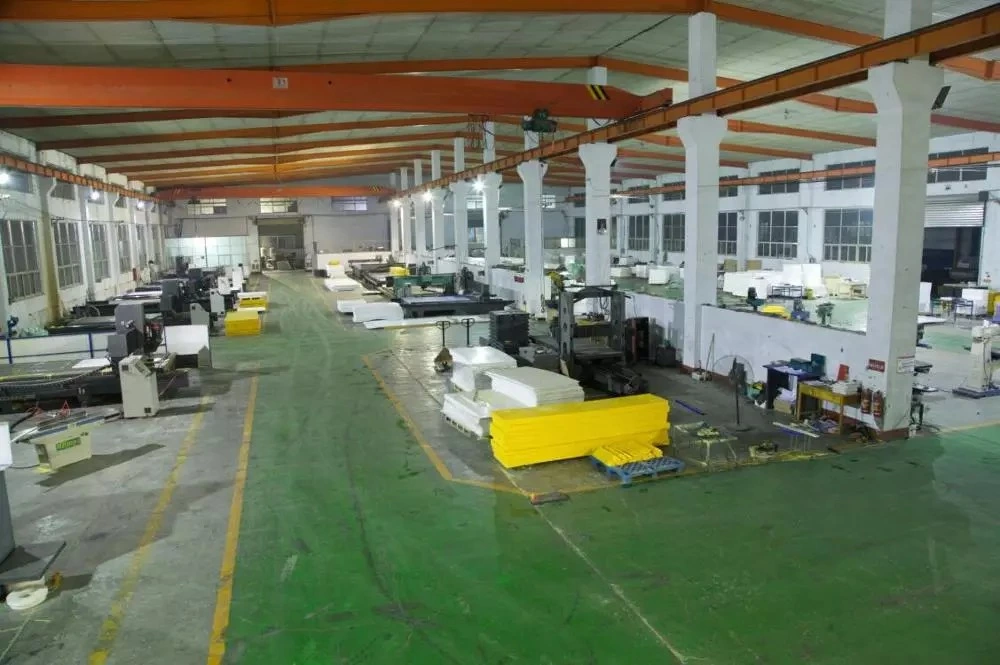 FAQ
Q:Is the size fixed?
A:No.we can meet your needs according to your acquirement. That is to say, we accept to customize.

Q: What is your MOQ of this item?
A: 500 kilograms.

Q: Is it all right to make customer's own brand name?
A: That's all right to engrave your own brand name.

Q: What is your company's available production capacity?
A: Usually 9000 kilograms per year.

Q. Can you special order a product for me?
A. We are typically able to special order products for customers. OEM service .